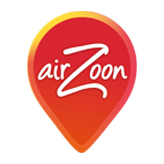 airZoon is first and foremost a team of enthusiasts driven by a common goal:
To ensure that every citizen of this world can have access to the Internet, free of charge and close to home.
We are 10 collaborators and partners who live and work remotely in more than 6 countries.
Through tireless work, our diverse and collaborative team supports and enriches each other daily in the research and development of innovative solutions to achieve our mission.
We are proud to be able to contribute to the pursuit of a major societal and planetary challenge, aiming for greater equity between peoples, through the eradication of the digital divide in emerging countries.